LLP REGISTRATION IN INDIA:
Preface
When a person decided to set up a business or startup every person thinking about how to create a startup or business. Meanwhile to start a LLP registration in India, which one create in that time.



You think you work as a single owner so you can go through to providers company.




But if you decided two or more than two people engage in the same company so that case you have three choices – Partnership, LLP, private company ltd.
What is LLP?
LLP describes is a partnership in which some or all partners (depending on the jurisdiction) have limited liabilities.
Features of LLP:
The LLP has separate Legal Entity.ie; the Partners and the LLP are separate from each other.
Minimum 2 Partnership is required to form LLP. Maximum partners: no Limit
No minimum capital requirement to start a business.
Advantages to choose LLP:
each partner has to enjoy Limited liability.
No partner is liable for the activities of other partners.
Has Separate Legal Entity. Can Sue and can be Sued?
Less Statutory formalities than Companies.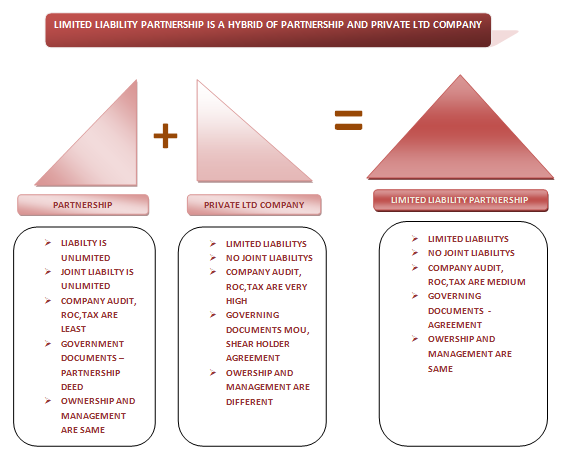 In India following documents are required



PAN Card or Passport for Foreigners.




Drivers license or Aadhar card, residence card or election identity card or any other identity proof issued by the Government.




Less than 3 months old bank statement or telephone bill.




The authorization from the Landlord.




Any Proof of evidence utility service like electricity, telephone, gas, etc. Delimitate the address of the foretaste in the name of the owner or document, it is very important to remember which is not older than two months.